When Owen was 18 months old we painted some stretched canvas to place his hand and footprints on along with his name. We did the same for Brandon when he was about 18 months, well actually a little over. While we were at it we thought it would be cool to let each of them paint some extra canvas art boards to create their own art that would be hung in either their rooms or somewhere in the house.
Owen was right in there mixing colors and using different stamps, stencils, brushes and um "techniques". He stuck with cooler colors of purple, blue, and green which I think made his piece come out dark and mysterious.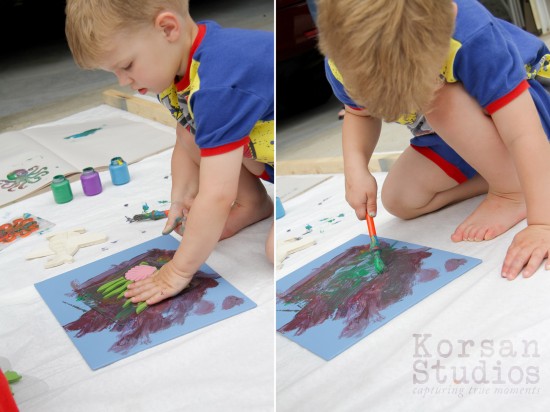 Brandon also had a lot of fun but was a little more firey in color selection choosing yellow, orange, red, and blue to keep some coolness with all that warmth. I think Brandon's piece has a lot of drama and passion.
It is very inspiring to sit back and watch children create, learn and explore through the use of paint and art. We take for granted what happens when you move your hand in straight, wavy or circular lines. Things that have become intuitive as adults are new discoveries for children. Of course it is also a lot of fun and a great way to spend a day with your kids. I highly recommend washable paints and a very very large drop cloth ha ha.
I think for 3 years old and 22 months old they both created very expressive pieces of art that I am very proud of. All this work was done completely on their own, except for the base blue color each board had been given and clean up of course.