We took the boys to Sesame Street Live: Elmo's Healthy Heroes at Rexall Place on Saturday and the tickets included gate admission to the Capital X as well. While we waited for Aunty Claudette and Grandma Korsan the boys played around the statue of Wayne Gretzky one of the greatest hockey players of all time who played for the Edmonton Oilers from 1979-1988. I love this photo because even though the boys are just playing around it looks like they are taking a moment and praying to the hockey gods for greatness!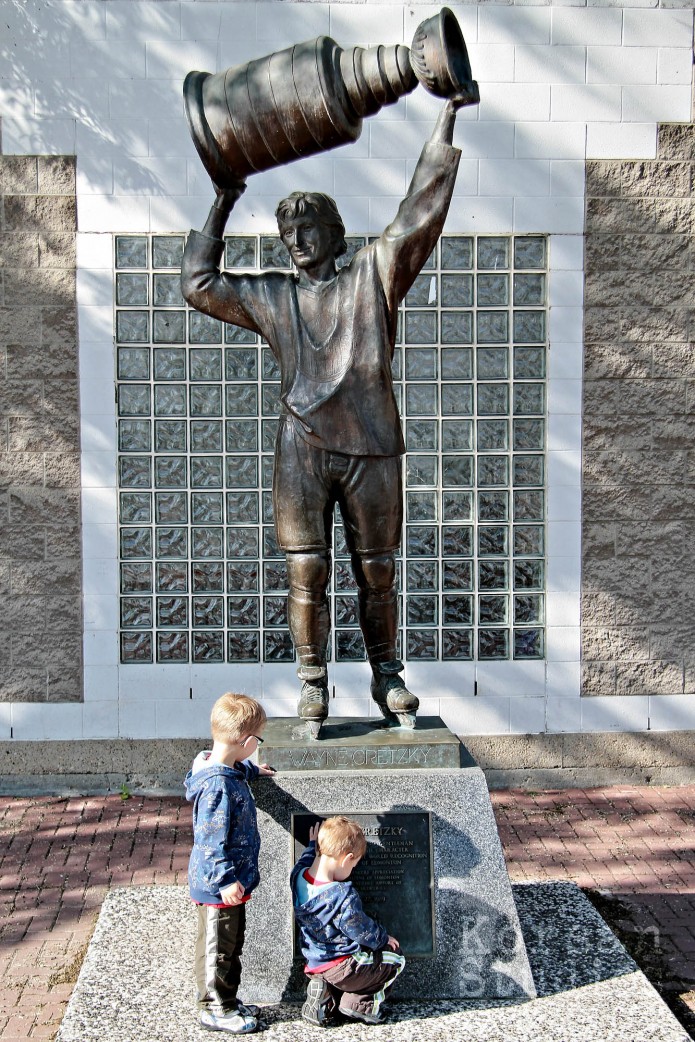 Sesame Street was better than I was expecting, actually it was quite good! This is pretty much the only photo I took because security came and told me no "professional, detachable lens cameras were allowed". I asked if it indicated that on the tickets as I had not read them and he said indeed it did, in fact NO CAMERAS were allowed. I reluctantly put my camera away so as not to be asked to leave but could not help but laugh at the fact that hundrends of other cameras were clicking away with flashes going off.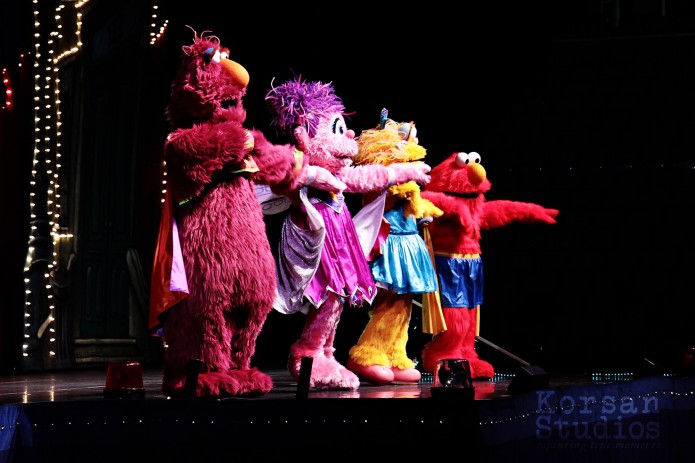 After Sesame Street we headed to the Capital X for some lunch and rides. After lunch we started off easy on the Carousel.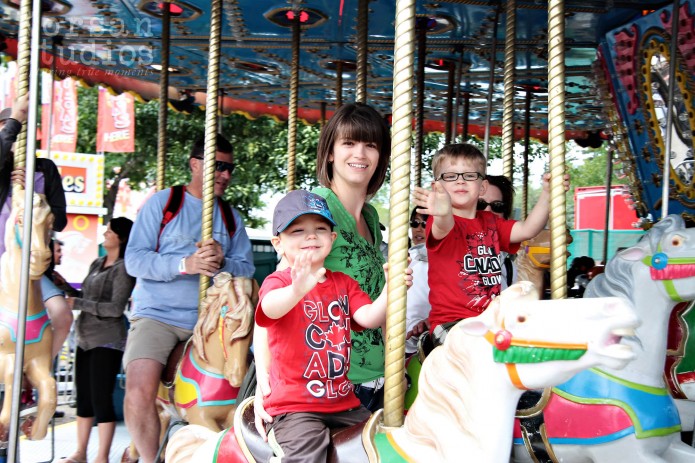 Brandon wanted to ride the bumble bees but Owen wanted to ride the motorcycles so we split up to wait in lines. While Brandon loved the bumble bee mom did not look as thrilled, at least not in this photo 😉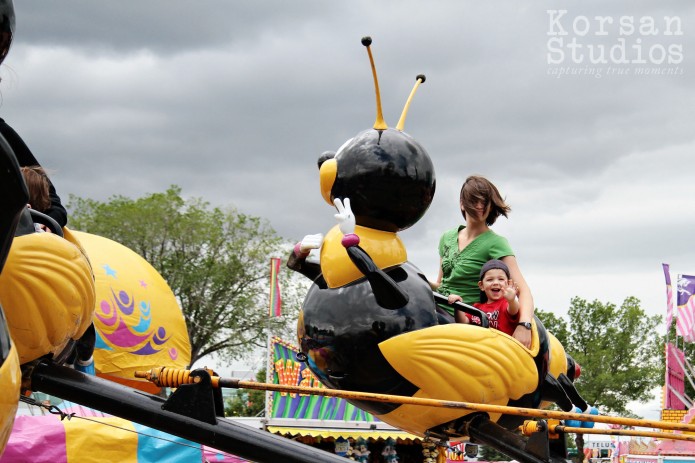 Owen started off great on the ride all by himself, all smiles and happy!

but once it started going he put his head down in his hands and slumped over the handlebars… I was worried that he banged his face on the bars going over the "jumps". I was even more worried that as the ride jerked and spun that he would continue to bang his face if he did not lift it up! I hollered for him to lift his head and when he looked up he was not crying or hurt but he was no longer smiling. After he got off the ride he told me that he did not want us to cheer for him on the motorcycle… Ahhh I felt so bad, we embarrassed him with all our cheering him on. Maybe the pom poms were a bit too much 😉 So sweet!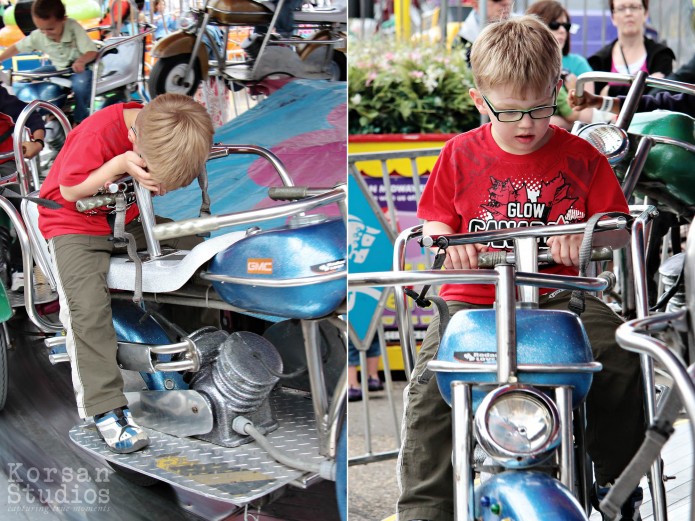 We took a break from ride time and played a few games. Both Owen and Brandon seemed to like the games even more than the rides, expecially since they could win prizes playing the games!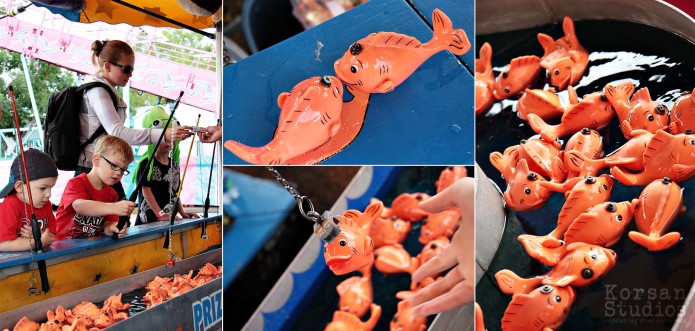 And what sweet music to our ears the prizes were!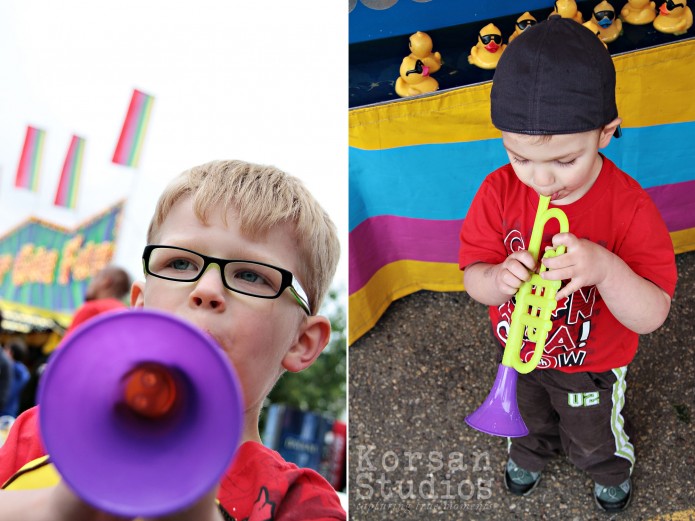 By this time the clouds had rolled in and some showers started but soon fizzled and we went back for a couple last rides before home time.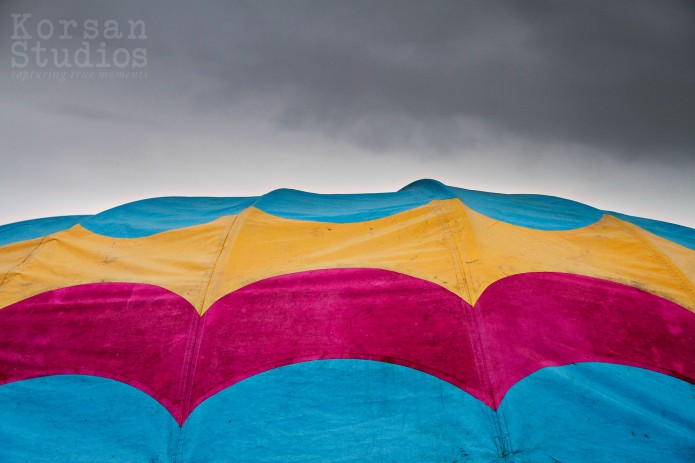 Owen and Brandon had a ball in this jeep, they were talking and gesturing the whole time. I imagine this is what they will be like once they get their hands on mom and dads car in a few years. Cruising around with the music blaring waving to all the girls. "How you doin'?" I guess we better start saving for a convertible!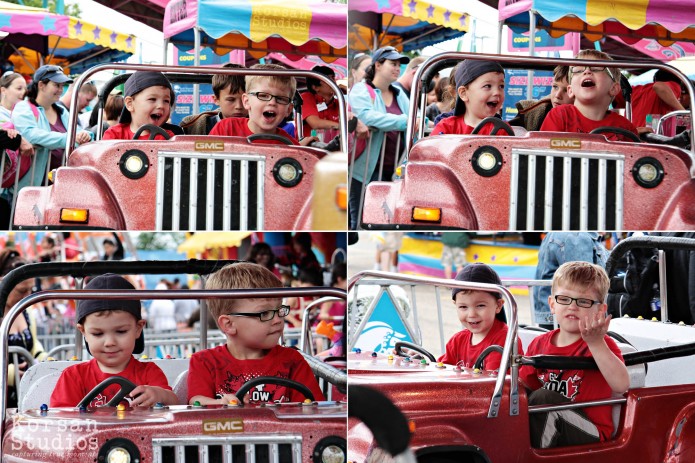 The roller coaster was last on the list of rides and the boys wanted Aunty Claudette and mom to take them so no rides for dad this year, which was fine because I did notice the sign behind the coaster. CRASH, did not seem like the thing I wanted to read or see just before we took the plunge from the top! Of course the ride ended without incident and Owen seemed genuinely pumped from the experience, either because he had fun or he too read the sign and was relieved it did not come to a CRASH.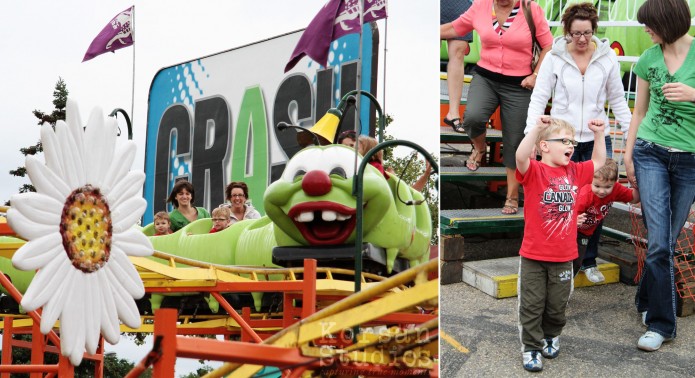 At the end of a long day we all piled into the van and headed for home, bellies full, rides riden, and games played. See you next year Capital X!